Your support is needed to keep the Auction Tools and Aggregators running!If you find the tools of benefit, please consider becoming a
PATREON SUPPORTER
for either $3 or $7 per month. Thank you!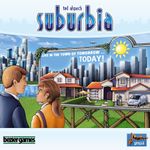 Suburbia (2012) - Game Ratings as a Couples Game
Ratings
Only the most recent rating by a user per game per Aggregator site is kept. This list is how users rated Suburbia in the context of the What Couples Have Been Playing monthly lists.
Average Rating as a Couples Game:
0.00
Number of Ratings:
0
---